If you're looking for a way to enlarge your penis effectively and safely, then you may want to look at the Male Edge penile extender. Male Edge features in my "Best penis extenders 2021 list" in the affordable category. Check out to see if it really works!
Male Edge is a comparatively new series of penis extenders from the Danish company DanaMedic. This company came into fame when it launched the Jes Extender series of penis stretchers in 1995. Even now, the Jes Extender device is bestsellers among penile enlargement devices, as it has gained an enviable reputation for effectiveness and safety.
If only the Jes Extender wasn't so expensive, though. Its Original model costs $250. Some of the other versions are much more expensive, with the top-of-the-line package costing a cool $1,000.
DanaMedic has always listened to the various customer reviews, and over the years they've perfected their penile enlargement design. They've made it much more comfortable, even while it remains effective.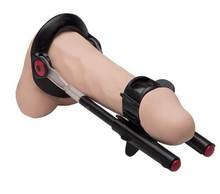 The Male Edge is DanaMedic's response to complaints about how the Jes Extender is much too expensive for some men. With Male Edge, DanaMedic tried to make a more affordable version of their Jes Extender without compromising both effectiveness and safety.
Did DanaMedic succeed? Let's take a closer look.
How the Male Edge Works
The Male Edge works in a fashion that's similar to the Jes Extender. It uses the basic principle of stretching the penis to encourage it to grow bigger. You stretch the penis day in and day out for at least 4-7 hours each day.
The constant stretching of the penis causes the cells in the penile tissues to divide and multiply. The new cells in your penis make for a bigger mass for your penis. Your penis becomes longer, and thicker as well.
These improvements don't come overnight, however. It's very gradual, and it may take a couple of months to even notice a difference.
It may be a slow process, but it's the closest you can get to a sure thing. Several studies have already confirmed that penile stretching actually works. These studies have been published in such journals as the British Journal of Urology International. It's been tested to work for adult men, even for those well into their 70s.
Package Options
You may notice that the Male Edge options are all relatively affordable, compared to the Jes Extender. All of these options also feature the same basic device. The main differences between the options are all about the accessories you get.
Male Edge Basic (Blue)
This gives you the basic gadget, and all the accessories you absolutely need. For about $150 ($149.99, to be exact), you get the Male Edge Enlarger plus the following accessories:
Ruler
2 rubber straps
Brochure
Product box
Travel bag
Male Edge Extra (Green)
This time, the cost is $175. So, what do you get for your extra $25?
Your package includes everything that's in the Basic. In addition, you also get an extra rubber strap (making it 3 rubber straps in total). You also get a protection pad, which you can use when you're a newbie and your first days of use lead to soreness.
Buying an extra rubber strap will cost you $20, while a protection pad costs $7. With this option, you're saving $2 for these accessories.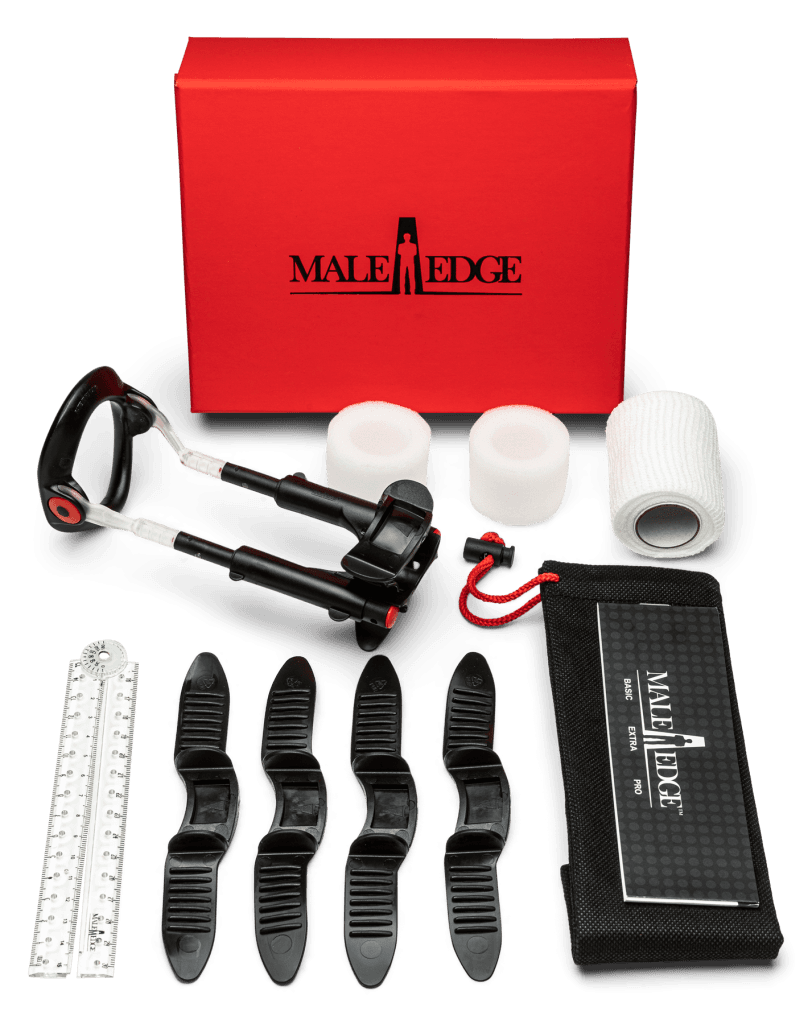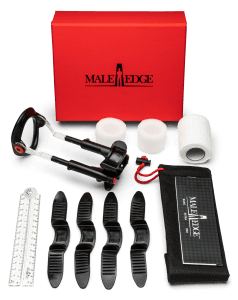 Male Edge Pro (Red)
This is the top-of-the-line model, priced at $200. You also get all the paraphernalia in the Basic. But this time, you get 5 rubber straps in total. You also get 2 protection pads, plus a cohesive gauze.
The 3 extra rubber straps will normally cost you $60 ($20 each). The protection pads cost a total of $14 ($7 each), while the cohesive gauze will cost you $12. So, you pay an additional $50 compared to the Basic package, but you actually get $86 worth of accessories. You end up saving $36.
This is actually your best bet, as it's cost-effective and it offers the greatest comfort.
How to Use the Male Edge
When you open the box, you'll find that the device is already preassembled. That's great, as it makes sure the device is put together correctly right from the start.
You can use this original configuration if your flaccid penis is less than 5 inches when you stretch it out.
However, if your stretched flaccid penis is longer than 5 inches, you need to turn the front piece so that the rubber strap is nearer the tip of the device.
You still need to separate the front piece from the rods, even if your flaccid penis is less than 5 inches when stretched. Put the base ring around the base of the penis and let it stay there for the moment.
Meanwhile, the rubber strap should be around the head of your penis. Tighten the strap under the glans. If you're uncircumcised, you have the option of wearing the strap over or under your foreskin. Pick the option that feels more comfortable for you.
Rotate the elongation rods hanging from the base for a quarter-turn, in a clockwise direction (from your perspective). Pull the rods to the right length.
You just need to make sure that you pull the rods only as out as the last set of holes. If you accidentally slip out the rods so that they detach, just push them back into place.
When you've set up the length of the rods, turn the rods back counter-clockwise. You should get a double click sound when you've put these rods back in their places.
Now it's time to secure the front piece back on the elongation rods. Again, you'll hear a click sound to confirm that the pieces are in their proper places.
Line up the inside split with the traction force indicators on the transparent cylinder. You can then set the traction force you want. At first, you should start with the lowest traction force. That's the 1200g.
You can wear this during the day, or even at night when you sleep. It only works when you sleep if you don't move a lot. The good news is that if you do move around when you sleep while wearing this, it will just slip off. It won't actually hurt or cause an injury.
You should start slow, with the 1stweek at the lowest traction level for just 1 hour a day.
For the 2ndweek, keep it in the lowest traction level but increase the time to 2 hours a day.
Try 3 hours a day for the 3rdweek, then 4 hours a day for the 4th
For the 5thweek, try 5 hours a day. You may also want to increase the traction force a little bit to 2,000 grams.
For the 6thweek, go for 6 hours a day while you try 2,000 grams.
For the succeeding weeks, see if you can go with even stronger force (2,800 grams). Keep it to 6 hours a day.
You can wash this in the dishwasher, but just make sure you first detach the elongation rods from the front piece.
Male Edge Pros
This uses the proven traction method of increasing penile length and girth.
This is made by DanaMedic, which has been making this type of devices since 1995.
Male Edge is very affordable, compared to the Jes Extender line. The Male Edge Pro (the most expensive option) costs the same as the most affordable Jes Extender package. It's ⅕the price of the most expensive Jes Extender.
This meant for penis sizes ranging from 1.6 to 9.5 inches.
It's actually very easy to use, especially when you just follow the demo video.
It's also very safe and made from high-grade materials.
When you order it, the packaging is very discreet. Your neighbors and even the other members of your household won't know what's inside.
You have the option of setting the tension to a comfortable level, so you can wear this for hours on end.
When you option the box, everything's already pre-assembled.
You can wear this while sleeping since if you move around it'll just slip off. It won't cause any pain or injury.
Whatever gains you get are permanent. When you've become as big as you want to be, you can stop wearing this.
You can bring this along when you travel, though you may want to cover the "Male Edge" brand name on the box.
It's dishwasher-ready.
Cons
The Male Edge brand name on the box may cause some people who see the box to get curious. You may want to cover this for greater discretion, especially when you're traveling.
The boxes don't have a lock option as well.
It will feel weird and uncomfortable at first, especially if you're new to penile extenders in general. However, this is a drawback found in all penile extenders.
You can't play sports when you use this, and you'll want to take it off when you need to urinate (or have sex).
It takes a very long time to get the improvements you want. It'll take about 4 months before you even notice that your penis is larger. Some men require 6 months before they're as big as they want.
For some men, it just won't work. This is again true for all penile extenders. In fact, it's true for all medicines—nothing works equally well for everyone.
How Does It Compare to Other Penis Extenders?
It actually looks good compared to many of the other penile extenders out there.
It's very affordable, which is always a concern. The Jes Extender models can be very expensive.
This is also made by DanaMedic, which is behind the Jes Extender line. It's made in Denmark, and it has passed EU safety requirements. DanaMedic has been around since 1995, unlike other brands that are just new to the biz.
However, it only has a 1-year warranty. The Jes Extender comes with a warranty for 2 years.
It's actually easier to use than some of the other models.
You have plenty of accessories to choose from, even when you get the Basic package. You can just buy the accessories separately.
Personal Results
I found this very easy to wear, though I don't wear this at the office. I started with just one hour at the lowest traction setting and then increased the hours by 1 hour each week. It was a bit uncomfortable at first, but I got used to it. I used the cohesive gauze and the protection pad for a more comfortable and secure fit. After a few weeks, I didn't feel uncomfortable at all.
The good news is that I don't really move around a lot when I sleep, so I could wear this for hours when I'm sleeping.
It did take a while to get any improvements. After a month, I just stopped measuring my penis. I did notice an improvement after about 4 months, and then my 4.5-inch penis got to 5.5 inches after about 6 months. This is actually the average increase for most customers.
Do I recommend this? Sure, since it's effective, comfortable, simple to use, and very affordable. That 1-inch improvement is worth $200—it did wonders for my self-esteem!
How to Buy This with Best Price?
It's best if you just buy this from the official Male Edge website. You can then be sure to get the original device, and not any fake items. You can also get the warranty, plus check out the range of accessories. You can get the proper directions as well.
The main problem with buying this elsewhere is that you may not get the real thing, or maybe you get one that's damaged. You may even get one that's already used (shudder). You may end up without any improvements, or you may even end up injuring your penis. That's not exactly a risk you should take, not with your penis involved!