The Lelo Enigma, a dual-stimulation massager, is a compact & powerful sex toy that could be the next big thing on the market. To know more about this dual stimulation massager, keep reading.
What is Lelo Enigma?
The Lelo Enigma is a dual-stimulation massager that uses both the clitoral & G-spot areas to create an out-of-this-world orgasm. It has two different motors, one in each end, which are made from medical grade silicone & make it safe for use on any part of your body. It can be used by a couple together during intercourse or solo. With limitless possibilities, there is no one right way to use it!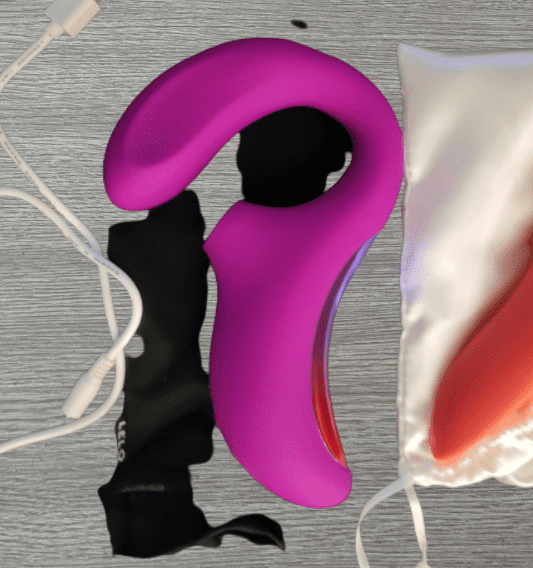 Key Features
Two powerful motors; Waterproof, Medical-grade silicone material; it also has a USB charge. You can plug it into a computer and charge it without worrying about changing batteries. There are ten powerful vibration modes and five different pulsation patterns to choose from. A one-year warranty is also included.
1.It's ergonomically designed
The design makes it easy to reach all those hard-to-get spots. Plus, its smaller size is perfect for people who want a more intimate experience. If you're looking for a toy that will stimulate both of you simultaneously, this is perfect! Not only does the Lelo Enigma work as a solo toy, but if your partner wants to join in, too, they can place the device inside them while stimulating themselves with their hands. What could be better than getting pleasure at the same time?
2. Low Noise
It is a low-noise device, so you can enjoy it even when others sleep. Many people have been pleasantly surprised by just how quiet it is. With such a strong motor, you would think it would be noisy, but not at all!
3. Strong Vibrations
Lelo prides itself on its ability to provide intense vibrations, and this product is no different. Unlike many other dual massagers, it has two powerful motors that will never lose power, even during prolonged use. It also uses a combination of pulsations and vibrations to give you the most satisfying experience possible. Not only will you enjoy strong vibrations, but you can also choose from 10 different vibration settings to find your ideal pattern.
All these are easily accessed by pushing a single button on top of your massager. And once you've found your favourite setting, it's stored in memory so that it can be quickly and effortlessly recalled at any time. Even more impressively, four additional vibration patterns are available through a simple push on the + or – buttons.
What sets the Lelo Enigma apart from other vibrators is its wide range of options; not only does it offer ten various speeds, but four unique patterns as well. The variety provides something for everyone and makes this toy perfect for couples and singles who want an easy way to explore their sexuality with minimal discomfort or fuss.
4.Pulsing Sonic Waves
Part of what makes the Lelo Enigma so unique is its Pulsing Sonic Wave technology. This patented design produces over 20,000 pulsations per minute and will help you experience more intense stimulation. You'll get a satisfying feeling that won't stop until you're fully satisfied, and you'll be able to enjoy an orgasm like never before!
It's also safe for anal use, which makes it perfect for everyone looking for a dual stimulator. The multiple vibrations and pulses are also ideal if you want to explore your sensuality or try out new techniques with your partner in mind. Just as every person has different needs, this toy offers you versatility. Whether you want to focus on clitoral stimulation or vaginal penetration, there are multiple ways to take pleasure from this toy without needing two separate devices.
5.Dual Stimulation:
The world's first and only dual-stimulation sex toy, the Lelo Enigma, has a unique design that allows you to enjoy two types of stimulations at once. With this luxurious toy, you can choose between targeted vibrations on the clitoris and g-spot or intense vibrations simultaneously stimulating both areas. The choice is yours. Whether you want targeted stimulation or intense waves of pleasure, the multiple vibration/pulsation modes will always give you what you need and desire from your toy.
Light and gentle touches to tease and please, deep rumbly sensations that feel great inside or outside of you–the options are endless! Multiple options allow couples to explore together while experimenting with various intensities and speeds. The controls are also simple, as they're just three buttons away. The long handle provides stability when thrusting in an upright position, making it easier than ever before to enjoy some hands-free fun!
Using Lelo Enigma: What are the steps?
The Lelo Enigma is a waterproof, rechargeable, discreet, and powerful dual-stimulation massager that features multiple vibrations/pulsations. The controls are simple to use, and you can even set a timer to make your experience more enjoyable. Here's how it works:


The first thing you'll need to do is charge your Lelo Enigma! You can do this by plugging it into a USB port or using the included charger. The charger will take about two hours to charge the toy thoroughly. Once the toy has been charged, you're ready to get started!

First, insert one of the included silicone sleeves (we recommend starting with white) and use water-based lubricant on both ends of the sleeve.

Next, apply water-based lubricant all over the shaft of the vibrator.

Place your thumb and index finger around either end of the massager as shown in the illustration inserting it inside yourself or your partner. Now you're good to go!

Turn up or down vibration intensity from high to low by pressing the plus or minus buttons on each side of the toy's body.

Move the controller down and press the power button on top to change from clitoral stimulation to G-spot stimulation. To switch back to clitoral stimulation, slide the controller up.

After every use, wipe off any lube or fluids that might be present on the Enigma with an anti-bacterial wipe before putting it away. Be sure to also wash your hands after handling the toy.
Is Lelo Enigma good for me?
Lelo has been designing high-quality sex toys for over a decade, so it's no surprise their latest toy is worth your money. Whether you're looking to spice up your solo sessions or have an extra hand during partner play, the Lelo Enigma is perfect for you! With the shape of a simple vibrator and the power of two motors, this massager can deliver unbelievable simultaneous clitoral and G-spot stimulation. Plus, it's waterproof and rechargeable, making cleanup a breeze. Whether you want a gentle build-up or intense vibrations right away, The Lelo Enigma can take you there.
Can you play this solo or with a partner?
The Lelo Enigma is a powerful and versatile toy that can be played solo or with a partner. The sleek and elegant toy design makes it perfect for use in any situation, whether at home or out on the town! It simultaneously vibrates to the g-spot and clitoris, providing an experience that is sure to please. There are three intensity levels so that you can find your happy place from low to high, as well as four modes of operation. Additionally, this product has ten different vibration patterns to choose from for variety. Another great feature of this toy is its remote control, which means your partner can easily control your pleasure without even having to touch you! The body-safe silicone material also ensures that this product will last for years and years without wearing down or getting sticky, as some other toys might do over time.
Where can I get my hands on one?
The Lelo Enigma is available at an official retailer near you. If you cannot find one in your area, you can always order one online. With discreet shipping and a 100% satisfaction guarantee, who wouldn't want to try this massager? The dual stimulations allow you to experience multiple vibrations/pulsations simultaneously, and with eight speeds to choose from, there's bound to be something that will work for everyone. Plus, it's waterproof and spacey design makes it easy to manoeuvre and use!
Packages and shipping for Lelo Enigma
The Lelo Enigma is available in four different packages, each with varying levels of affordability and discretion. The most affordable option is a discreet shipping package that will be sent to your door and arrive in a plain brown box. You can have it shipped inside a discreet padded envelope or wrapped as a gift for an additional fee. And if you want to keep your purchase even more private, two different packages allow you to send your order anonymously in either an unmarked box or with no packaging, so no one knows what's inside.
The most affordable option is a discreet shipping package that will be sent to your door and arrive in a plain brown box. You can also upgrade to a second package where the Lelo Enigma will come in a padded envelope or wrapped as a gift. For added privacy, there are two additional packages where you can ship your order anonymously. One is an unmarked box, and the other has no packaging whatsoever. When choosing these options, know that prices increase but also include discreet delivery, which is not offered on the first package option. In addition to those three packages, an express delivery service is available for customers who need their toy quickly and with limited visibility! All shipments are guaranteed 100% discreet (unless specifically requested otherwise), while expedited orders may require signatures upon delivery due to a higher risk of theft during transit.
Dedicated sales care, maintenance, and customer service
One of Lelo's most outstanding features is its dedication to keeping customers satisfied and maintaining quality after purchase. If you have questions about your sex toy, are looking for tips on how to best use it, or want to send it in for repair, Lelo's customer service is some of the best in its field. You can contact them by email, phone, or Skype—all at no extra charge! They also offer free shipping if you need to return an item. In fact, they go out of their way to make sure that every experience with their products is positive. So if you want high-quality toys with excellent support and care, Lelo might be right for you.
Tips for using Lelo Enigma effectively
If you're new to using a sex toy, it can be challenging to know where to start. Use these tips as a starting point and see what works best for you.
1) Select your desired level of intensity by turning the dial on top of the vibrator and exploring each set before moving on to another. Experiment with different speeds until you find one that's just right!
2) Start with external stimulation and then move on to internal stimulation when ready.
3) To avoid discomfort or soreness, make sure to lubricate yourself and the massager before beginning.
4) After use, clean your device with warm water and soap. If necessary, apply a small amount of lubricant and store it in a cool, dry place.
5) Never expose Lelo Enigma to extreme temperatures!
6) The rechargeable battery lasts up to three hours of continuous use.
7) When completely charged, the LED light will glow green.
8) It is recommended that you charge it after every three uses (or more often, depending on how frequently you enjoy its pleasures).
9) Be mindful of water and other fluids during playtime; some are okay, but others should never come into contact with your toy.
10) Never submerge the Lelo Enigma underwater, and ensure there is space between the power button and any liquids at all times.
11) Once finished playing, dry off with a towel or let it air-dry before storing it away from sunlight to preserve the integrity of the materials inside.
12) Do not attempt to repair this device; improper care may lead to irreparable damage. The long-lasting, high-quality silicone provides additional pleasure and even warms up with time, so it's comfortable to touch. Additionally, the two motors work independently for multiple sensations to provide deep satisfaction.
My Personal Experience with Lelo Enigma
The Lelo Enigma is a fantastic dual-stimulation toy. It has multiple vibrations/pulsations, which is great because it means you can find a setting that feels good and stick with it. I also like that it's discreet, waterproof, and spacious. But personally, my favorite thing about this toy is that you can use it hands-free! That's right – get creative with where you want to use it. Try lying back in your bed, holding onto the headboard, or even up against a wall in your shower! Multiple vibrations are better than one, and as long as you know what kind of stimulation you're looking for (i.e., clitoral, g-spot), there is an option for everyone.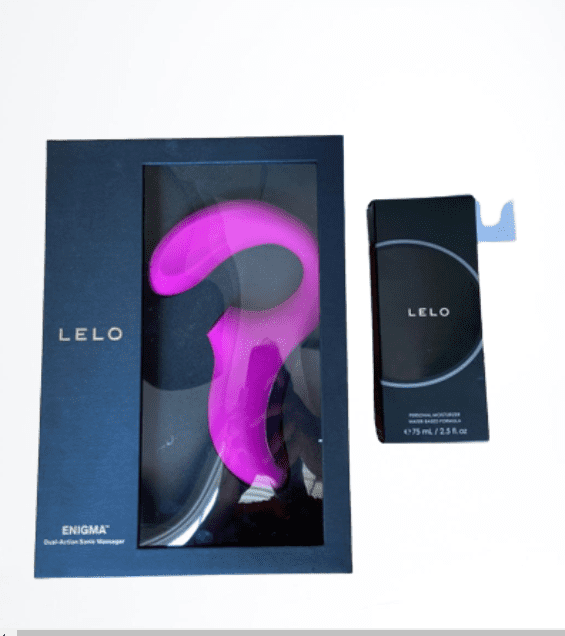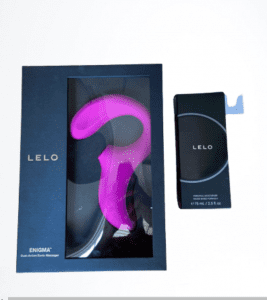 A Few Things To Consider Before Buying: As mentioned before, some users may not like that their partner will feel the vibration if they are laying on top of them while using this toy or while they are using it hands-free; so keep that in mind when considering where to use it! If you have very sensitive skin, be careful when choosing between a silicone-based or ABS-plastic vibrator; silicone tends to have more drag, so that ABS plastic might work best for you. And if someone is looking for something longer, there is no need to worry! One of my favorite features about this toy is that it's fully adjustable and versatile – change how far down the neck of the massager goes, and voila! There's a new length available to suit your needs. How does it work? Change how far down the neck of the massager goes. Voila! Now you can enjoy multiple sensations with an adjustable design that fits any size. Why settle for one sensation when you can have multiple at your fingertips? That's why I recommend the Lelo Enigma.
Enigma vs. Enigma Cruise
The original Lelo Enigma has now been replaced by two new toys – which one should you buy? As with most things, it depends on what's important to you. If you like firm pressure and subtle vibrations, go for the Cruise. Its head is narrower than its predecessor's, so those who like broader stimulation may prefer to stick with the original. Those who don't need or want pinpoint precision may find it difficult to appreciate what sets these toys apart from other dual-stimulation vibrators. Both toys have rumbly motors, but they are different sizes. This means that while both are strong enough to satisfy most users, if you prefer broad stimulation over pinpoint pleasure, then there's no question that you should opt for the bigger toy. Both come in pink or purple (with silver accents), but only one comes in white (with gold accents). We recommend going with Lelo's Enigma Cruise for anyone looking for an affordable luxury vibe. It provides everything that made its predecessors great without any of their shortcomings. It's also waterproof, rechargeable, and made from body-safe silicone—so it's perfect for use in or out of water. It even comes with a satin storage pouch! For people who love pinpoint vibration, however, you can still get your hands on an Enigma.
Lelo Enigma vs Sona vs Soraya
Let's look at how each of these toys stacks up. We'll start with Lelo's Enigma massager: dual motors, ergonomic shape, and 10 vibrating modes. The Sona (from Je Joue) has six vibration modes and slightly lower intensity than Lelo's toy. It also has an insertable portion for G-spot stimulation. Finally, we have Lelo's Soraya—another high-quality G-spot vibrator from Lelo that comes in either pink or purple. It features eight vibration modes and four intensities for each mode. As you can see, there are plenty of differences between these three toys; however, they all have one thing in common—they are all top-quality sex toys!
Lelo Enigma vs. Womanizer Duo
Two different brands of dual stimulation vibrators, Lelo's massager and Womanizer's massager are designed to simultaneously target your clitoris and G-spot. But which is right for you? Keep reading to find out! In an ideal world, we would all have unlimited time and money. However, that is not how things work in real life. We often have to make do with what we have got at hand – be it our time or our money – and spend it wisely on something that will make us happy in return. When choosing between two products, let me help you choose between two similar models: The Lelo's Enigma and The Womanizer. Both use their own unique technology to stimulate your body into pleasure but differ in size, shape, sound, and price. Let's see if they can live up to their promises.
The Bottom Line – Is it Worth My Money?
The Lelo Enigma features dual stimulation, multiple vibrations/pulses, discreetness, waterproofness, and a spacious design that makes it unique. It is compact enough to travel with and provides users with myriad sensations to explore. The massager may be too intense for beginners or those who prefer gentler sensations. It is worth its price tag if you're looking for something new and different!