The Phallosan Forte is one of the most popular penile traction devices in the market today. It uses unique vacuum suction technology not just to increase one's penile length but also its size.
Aside from this, it can also help correct conditions like incurvate penises or Peyronie's Disease. With that said, this article will discuss what Phallosan Forte is and how it can help with bent penises.
Why Correct Curved Penises?
Just like our other features, the male genitalia also varies from person to person. They can differ in shape and size, as well as their overall appearance. Nevertheless, despite these differences, some experience more significant deviations from the norm, such as curved penises.
These can affect not just your penis's appearance but they can also affect its overall function. In more severe cases, it can be excruciating, especially during intercourse.
As such, it's crucial to correct incurvate penises to ensure their proper functionality and one's overall sexual health. Correcting curved penises can also help give men a more pleasant experience with their partners overall.
Common Causes and Treatment of Curved Penises
There can be several reasons for curved penises, ranging from congenital to external. Some of the common causes are:
Hormonal imbalances

Accidents or injuries

Plaque buildup

Autoimmune disorders

Collagen abnormalities
Mild cases often improve with time. Therefore, men experiencing mild issues rarely need medical attention. On the other hand, if it's interfering with your sexual performance, some doctors might suggest undergoing corrective surgery, especially in severely painful cases.
However, this can be risky and extremely expensive, which is why some men opt to use devices like the Phallosan Forte.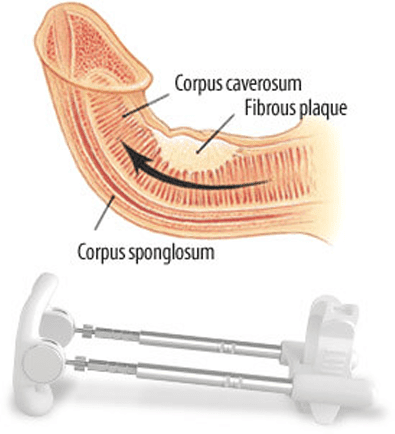 How Phallosan Forte Corrects Penile Curvature?
The Phallosan Forte is a penile traction device often used to increase one's penile length and size. It has also been found effective for correcting penile curvatures, such as in the case of Peyronie's Disease.
Phallosan Forte does this by using a simple yet effective mechanism to straighten the penis gradually. Using unique vacuum suction technology, it continuously applies a small amount of tension on the penis, gently stretching it.
Stretching the penis creates micro-tears along the shaft, which will trigger the body's natural healing process. This allows it to make more tissue through cellular division, filling the micro tears' gaps.
Don't worry about the micro-tears, as they are completely painless and offer no discomfort. This entire process allows the curved penis to straighten and return to its original shape slowly.
Final Thoughts
The Phallosan Forte improves more than just your penis's physical appearance. It can also help correct conditions like Peyronie's Disease, allowing you to enjoy better penile functionality.