Many men feel that their penis is below average in size. They look for ways to increase the length and girth of their penis. So when Quick Extender Pro promises a penis extender, men may feel like trying it out to see if it works. But there is always the fear that it may be a scam.
This article attempts to verify whether or not Quick Extender Pro is a scam. Does it work as advertised, or will you just be spending a lot of money with no visible gain in size or girth?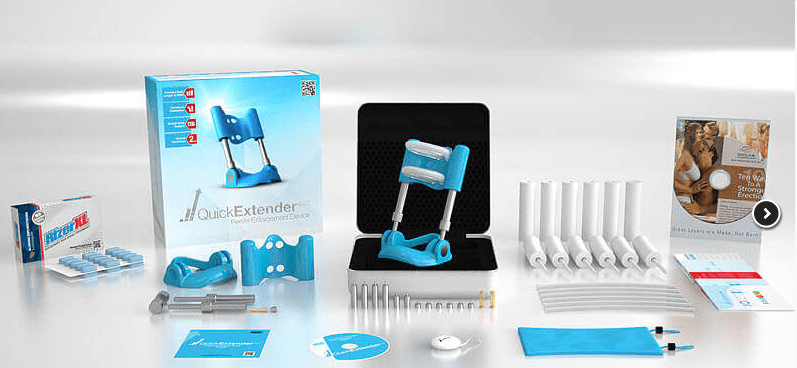 Quick Extender Pro provides a penis extender that guarantees growth in size and girth using a traction method. They advise that you wear the device for 6-8 hours a day for an extended period to see results. They also say that you can gain an inch in about 6 months. You can read my detailed review with results here.
Limited Online Information
While searching for information about the truth of the claim, we did not find much information to go on. Of course, many websites spoke in favor of Quick Extender Pro. And there were reviews by people that seemed to suggest that it does not work.
However, it is important to point out that the positive reviews outweighed the negative ones. More people spoke in favor of Quick Extender Pro than those against it. Of course, this does not prove that Quick Extender Pro is not a scam.
Also, it is pertinent to point out that it was almost impossible to find online information that did not seem like an advertisement for Quick Extender Pro or a site promoting it. There were no authentic studies or reports to back up the claims.
The company behind this brand "Innovatech Designs" is a legit one and their support phone number does work.
Official Mailing address is:
Innovatech Designs

228 Park Ave S #78404
New York, New York 10003
Unites States of America

Phone number 1-888-800-6987
How Traction Penis Enlargement Works
Quick Extender Pro uses a traction device to extend a flaccid penis for 6-8 hours per day. They recommend that you use it daily for an extended period to see results.
Studies have been conducted that show that traction penis enlargement does work to a certain extent. However, the studies were not conducted using Quick Extender Pro products but a similar rival product. The studies indicate that traction is better than surgery or even using artificial means to enhance the size of a penis.
Here is the

link to one study

. It just shows the Abstract and c few details about the study. It is not the full study. But it is enough to learn that penis enlargement using stretching methods does work to a certain extent.
Here is the

link to another study

. Once again, this link only shows the Abstract for the study. But it does indicate that penis enlargement using devices like the Quick Extender Pro one can be a non-invasive way to enhance penis size.
Even the Quick Extender Pro website does have endorsements from two plastic surgeons.
The Final Verdict
Most men fear that their penis size is not enough. They feel the need for a longer penis. Most of the time, this fear is unfounded. However, men look for ways to enhance the size and girth of their male genitalia.
This quest leads them to penis extenders like Quick Extender Pro. But, there are fears that the expensive device may be a scam.
We would like to suggest that based on our research and studies conducted, there seems to be some merit to using penis extenders to enhance your manhood's size and girth. However, we suggest caution and ask you to try this out only under medical supervision to avoid damaging your penis.
So, no, Quick Extender Pro is not a scam, though the cost of their device is on the higher side.