It's not surprising if you want a bigger penis. That's a common wish among men, since having a small penis can be quite embarrassing. That's especially true over the last few years as online porn has spread, and too many people have gotten used to the penis sizes of professional porn actors. It's not fair to compare your penis to those monstrous organs, but fairness isn't the issue.
That leads us to the Bathmate HydroXtreme series of penis pumps. It's a tool that can offer almost immediate improvement to the quality of your erection. In addition, with regular use you can increase your penis size more permanently as well.
HydroXtreme Model Options
The HydroXtreme is a series of penis pump models, and you can opt for the specific variant that best suits your needs. You do have to take into account that all models come with the same maximum pressure levels. Basically, the major difference between the variants is the penis size to which each specific version is best suited.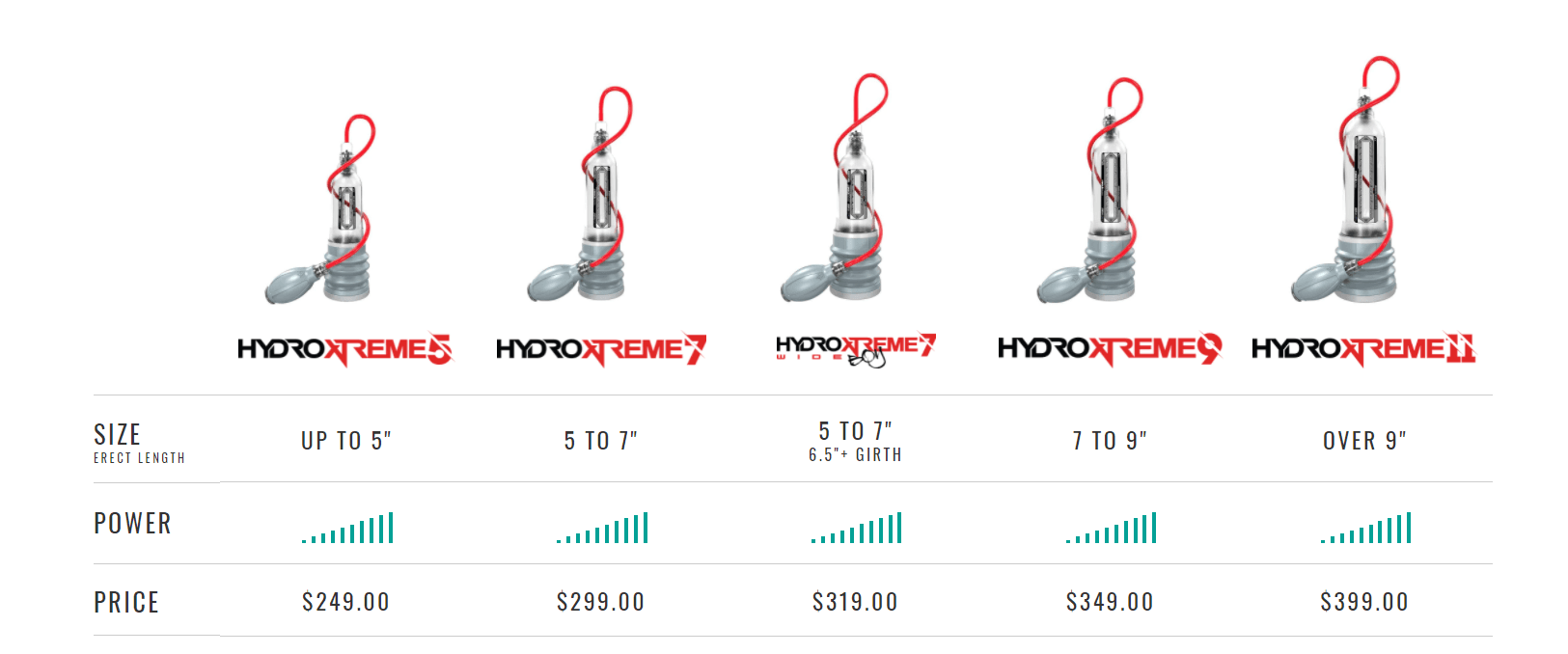 HydroXtreme5
This is designed for a penis with an erect length of up to 5 inches long. It costs about $250 (or $249, to be exact), and it's among the most affordable among all the variants. It's best if your penis is within 3 to 5 inches long when erect.
HydroXtreme3
This is a new model designed for a penis that's even shorter than 3 inches long. It costs $209, so this is the absolute cheapest of the bunch.
HydroXtreme7
This is for a penis with an erect length ranging from 5 to 7 inches long. It costs $299.
HydroXtreme7 Wide Body
The regular HydroXtreme7 is for a penis with a girth of up to 6.5 inches in diameter. Just get a tape measure to check your own penis girth. If the girth is greater than 6.5 inches around, then you'll need to go with this Wide Body version instead. It's also a bit more expensive than the regular HydroXtreme7, with a price tag of $319.
HydroXtreme9
This is for a penis that's 7 to 9 inches long when erect. While it's still possible to get bigger by using this, it's mainly to improve the quality of the erection. This costs $349.
HydroXtreme11
This is the priciest option at $399, but then it's the largest model available. It's suited for a penis that's 9 to 11 inches long (or even longer). At that length, it's quite unlikely that you'll want to have an even bigger penis (though that's entirely possible, of course). But even in the porn world, some professional porn actors have some bit of trouble achieving and maintaining an erection for a penis of this size. This HydroXtreme can certainly help, drawing enough blood for your penis to help you get that erection you want for your hot date.
Notable Features
Regardless of the variant you picked, the HydroXtreme will have the following features:
An Extremely Powerful Pump
It doesn't matter if you get the HydroXtreme3—you will still get extremely powerful vacuum pressure. In fact, the HydroXtreme series offer the most powerful pumps on the Bathmate product lineup.
A Complete Kit
Aside from the pump itself, you also get various accessories, including cleaning materials. You also get a carrying case, complete with a security lock to protect your privacy.
Clear Color Options
While the other Bathmate penis pumps are available in other colors such as blue and red, you only get clear plastic when it comes to the HydroXtreme. This isn't just for easier manufacturing, either. With the strong vacuum pressure involved, it's best that you can see for yourself what's happening to your penis when you're using the pump. At least you can reassure yourself that your penis remains alright.
What You Get with Your Money
Actually, you don't just get the penis pump. You have other components that come with the tool. Here's a list of what your money brings with the purchase:
Bathmate Clean

Carry case

Cleaning Sponge

Comfort Insert Pad

Handball

Hose Attachment

Security Lock

Shower Strap

Wash Towel
How to Use the HydroXtreme
First thing you need to do is to read the instruction manual carefully. That way, you can assemble the HydroXtreme properly. After completing the assembly, here are the steps you need to take.
Make sure you wash the pump so you know it's absolutely clean. You can even clean this right after using it, so you can use it right away the next time.

Take a warm bath or shower for at least 5 minutes first. That way, you can relax while you also make sure your penis is clean.

Fill the penis pump with water. Keep pressing in the pressure valve as you do this.

Once you've filled the penis pump with water, put your flaccid penis inside the pump. Make sure you have a tight seal between the pump and your body.

Eject the water from the pump, using the handball pump. Keep taking out the water until there's no more water left.

Keep your penis subjected to the pressure for the next 5 minutes. You may do shorter sessions if you're a newbie and you're not yet used to the pressure level. But you should continue to lengthen the session time until you can do 5 minutes at a time.

You can then repeat the whole process right after, or you can do that at some other time of day. You should do this 3 times a day (with a total of 15 minutes per day).
Pros
The HydroXtreme series offer a lot of terrific advantages for many penis pump users.
Reassuring Brand
It's a Bathmate, and that means it's good. This isn't about brand name snobbery, either. It's about acknowledging how the Bathmate brand as acquired a well-deserved reputation for their terrific products. It's not a coincidence that about 9 out of 10 users are satisfied with the HydroXtreme series.
60-Day Satisfaction Guarantee
This also comes with a 60-day satisfaction guarantee. You can return it at any time before 60 days have passed. You don't have to wait if the pump fails for some reason, though you do have a 2-year warranty for that. Even if you're simply not satisfied with the results you get, then you can return it.
Nice Sizing Options
With 6 different models to choose from, you're able to find one that really suits your penis size. This has models to accommodate penises as small as less than 3 inches long, or even penises that reach up to 11 inches long. If you have an average-sized penis but an above average girth, you also have the Wide Body model to use.
Optimal Enhancements
This is possible due to the extremely strong vacuum pressure that the HydroXtreme can create. With greater pressure, you also have greater size gains and higher quality erections, without taking too much time. You're also more likely to enjoy permanent size gains, and it won't take long, either.
It's basically like having even heavier weights to use when you're building muscles. The stronger pressure available here draws more blood to the penis, and also extend greater pressure to stretch the penis.
Also, you do have ways to customize the pressure level. You're not required to use maximum pressure all the time. But if you're already used to dealing with stronger pressure, then you can use this without any issue.
It's Discreet
When you first receive the package, there's nothing on the package that will indicate what's inside. It's completely discreet.
It even comes a carrying case, and even then, there's no brand or other indication on the case. The case even comes with a security lock, so no one can just open the case to see what's inside.
It Really Works
This is the crux of the matter. After all is said and done, the HydroXtreme series works. You can use it for just 5 minutes at a time, and afterwards you will enjoy a much better erection quality. Your penis will seem bigger as well. And your erection can last much longer, which should please you (and your partner).
It only takes a total of 15 minutes of use each day to help create long-term improvements. You can do one session in the morning, another session when you get home, and then the last daily session is right before you go to sleep. If you have access to a private shower or bath at lunch time, then you can do your second daily session then.
It's Safe to Use
The plastic used here is safe for your skin. That means you won't need to worry about developing rashes because your penis came into contact with the pump.
You do have to be careful with the pump, due to the strong pressure levels available. This is why the HydroXtreme is best for intermediate users. But even absolute beginners to penis pumps have had no trouble using this.
To be perfectly sure, you have to read the instruction manual carefully. You may even want to watch online videos that cover the proper use of the HydroXtreme. Also, you have to be very certain that you keep the HydroXtreme clean.
Cons
With its 89% satisfaction rating, the HydroXtreme is widely regarded as among the best in the industry. But it's not for everyone, which is why that satisfaction rating isn't 100% to begin with.
It's Expensive
This is one of the reasons why some people buy other models instead. It's really not cheap, and some people suspect that part of the price is simply because the tool comes with the vaunted Bathmate brand.
Not everyone can afford a price range of $250 to $400. That's especially true when you consider that there are penis exercises you can do that don't need any tools at all, which means you don't have to spend money.
It's Too Strong for Some
As the "Xtreme" in the model's name indicates, the pressure levels here can be quite powerful. For some, it may even be too powerful. In fact, Bathmate listened to feedback regarding the power of the HydroXtreme and HydroMax, which resulted in the launch of the entry-level Hydro7 model. The Hydro7 offers considerably weaker pressure levels for greater safety and comfort for newbies.
It's true that you can control the pressure level here, so that you don't have to endure the maximum level. But some newbies may still have problems with that. If you're a beginner to penis pumps in general, then you may be better off with the less powerful models.
Beginners May Find the Components Confusing
It does come with lots of components in the kit, so it's not as if you can just take this out of the box for immediate use. You do need to assemble this first, though it's not really all that difficult or time-consuming. You do need to take care of all the components so you don't lose anything.
You Have to Use the Pump Regularly
It's true that you can enjoy long-term benefits with the use of the HydroXtreme. But you still need to use the penis pump regularly.
It's like building muscles. Even when you succeed in developing bigger muscles, you still need regular exercise to maintain the size of those muscles. If you don't, then those muscles will get smaller and weaker.
No Color Options
While it's true that having clear plastic for the HydroXtreme just makes sense, it's still nice to have other color options. While this isn't exactly a priority, some people may like the extra color options.
Conclusion
This is perfect for intermediate to advanced penis pump users. That means you're able to handle the stronger pressure levels that this tool can expect. Since you're not a beginner, it's also unlikely that you'll make mistakes. That can be rather concerning, when you make mistakes that involve strong pressure and your own penis.
The HydroXtreme can truly maximize your penis size gains in the long run. It's also strong enough to offer temporary gains more quicky. It's mostly safe, especially if you take care to use it properly. If you can afford it, then just get one in the right size.
It's true that the price can be a bit worrisome, but it's a proper investment for most men. Sure, it's expensive. But having a bigger penis, and the confidence that comes along with such a big penis, is virtually priceless. In the end, it's worth every dollar you spend.